I had a blast typing recently with Trina about the scene around the Rising Sons and early Byrds in L.A. For those who don't know she was part of the scene around Ciro's on the Strip right when Jim McGuinn, Gene Clark, David Crosby, Chris Hillman and Michael Clarke were making a fabulously new noise combining strains of folk and what was later called country roots with Merseybeat! Vito, Franzoni and their crew came in and started freaking on the dance floor and the U.S.A. would never be the same! Dig Crosby reading one of those cheapo Pop Art Productions... yeah, the Byrds read comic books as well as sci-fi mags, popular expression was being redefined all over the place by thoughtful cats like The Beatles, The Kinks, The Zombies, The Animals and The Rolling Stones in England, The Lovin' Spoonful, The Fugs and The Velvet Underground in NY, and The Sons, Love, The Beau Brummels and the Byrds out in California!
Erik has performed and recorded some of Jesse Lee Kincaid (of the Rising Sons) original creations, and I remember I bugged him into buying a Dillards LP with She Sang Hymns Out Of Tune.
Here's a great early Byrds track not officially released back in the day (written by Gene Clark) but ought to have been a perfect theme tune for some Shindig or Shivaree type tv show...
In honor of the huge Byrds kick I've been on I figured I just had to have a shirt to go with the books and records. Behold!
The Rising Sons only got one single out the door while they were active, but if you take a trip to Wolfgang's Vault you can listen in to some of their early appearances at the famous Ash Grove in 1965 with Ed Cassidy (later of Spirit) on the drums...
http://www.wolfgangsvault.com/the-rising-sons/
There are also two original Jesse Lee compositions to be found previously unknown, and Taj Mahal was a great frontman! Mick Jagger had nothing on him, nor Brain Jones on Ry Cooder's guitar work. Gary 'Magic' Marker is on bass and gets his turn to vamp on a couple of outros. How this group wasn't huge I can only mutter 'hoo nose'! The Charlatans were another influential ground-breaking group that barely got anything out on vinyl at the time. Their 'Amazing' collection on the Big Beat label is essential '60s stuff (plus I'm just plain weird for Ferguson, wish I could've met him).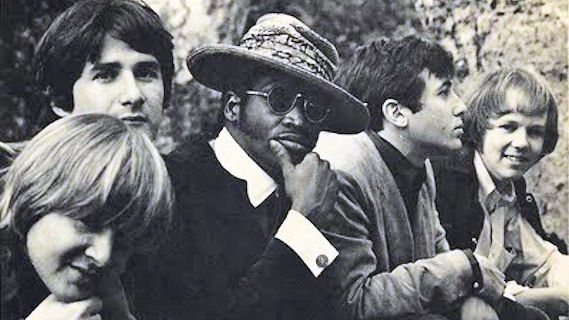 Gary, Jesse Lee, Taj, Ry Cooder and Kevin Kelley (later a Byrd during Gram Parsons' stint).