1967 was an important year for Canada. It was the country's centennial, and the year Montreal hosted the world's fair called Expo '67. Many Canadian music groups performed on stage on this man-made island in the St. Lawrence following Prime Minister (and Nobel Peace Prize recipient) Lester B. Pearson opening it. This is where Cass Elliot discovered Three's A Crowd and brought them to Dunhill records, but before Canadian radio had to support Canadian music on our own airwaves. Some stations played local groups but with few exceptions the only way for Canadian artists to get cross country exposure was to make the charts south of the border.
This article appeared in Teen's Top Ten magazine late in the year. The Sparrow would soon be renamed Steppenwolf, David Clayton Thomas invaded Blood, Sweat And Tears, while The Paupers following a disastrous performance at the Monterrey Pop festival lost their star bass player and eventually led to BST styled mega group Lighthouse.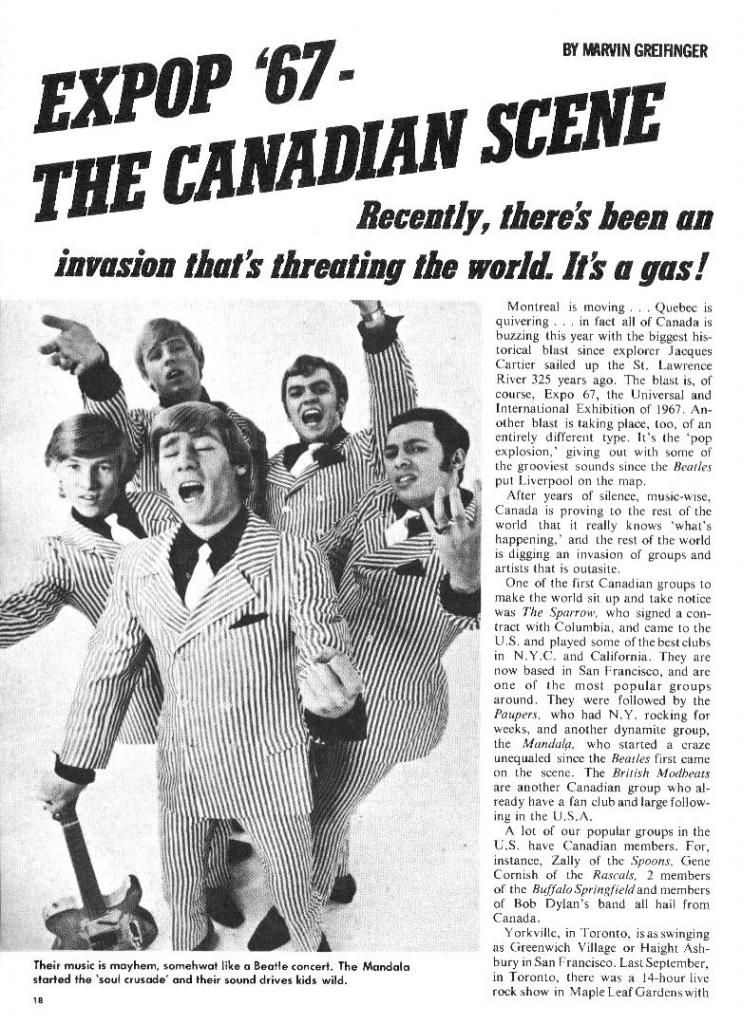 Mandala's guitar ace Domenic Troiano bounced along through a number of groups such as The James Gang, Bush, and The Guess Who, as well as recording some excellent solo albums with various studio cats in L.A. The British Modbeats singles are particularly hard to find, but well worth hearing when you do. It's interesting that vancouver's The Painted Ship are mentioned and not The Collectors (later Chilliwack) who were becoming quite well known on the west coast, or Terry Jacks & The Checkmates.